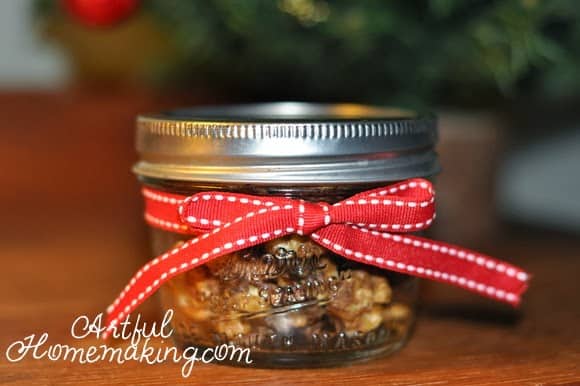 Mmmm, I love these things. They're good plain, and they also make a great addition to a fruit salad or even green salads (they're not overly sweet, they just have a hint of sweetness). And it's another one of those things the kids can help with or even make themselves (with a bit of oven supervision). And as you can see, they pack nicely into a jar for gift-giving, too. Another
handmade gift
idea!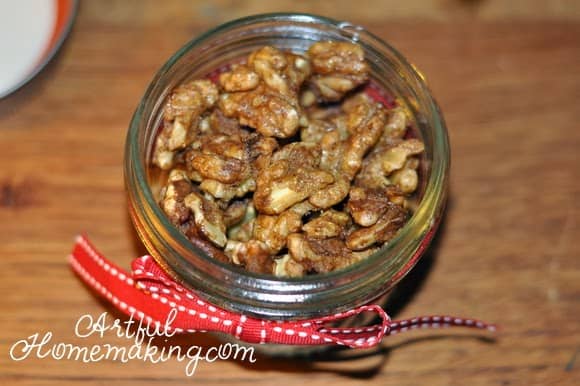 Vanilla Cinnamon Candied Nuts
Ingredients:
1 egg white
2 teaspoons of cinnamon
1 teaspoon of vanilla extract
1 teaspoon of salt
1/3 cup rapadura, sucanat or another sweetener (I used rapadura)
2 1/2 cups of walnuts (you can also use other nuts, such as pecans or cashews, etc.)
Directions:
Preheat the oven to 300 degrees. Lightly grease a cookie sheet with coconut oil or butter, or cover with parchment paper (I used parchment paper, which I found at our discount grocery store).
In a mixing bowl, gently beat the egg white with a whisk until it's just a little bit foamy.
Add the cinnamon, vanilla, salt, and sugar.
Fold in the walnuts, coating them well.
Remove the walnuts with a slotted spoon, and allow the extra coating to drip out. Place the nuts on the prepared cookie sheet, and spread them out so they aren't touching (at least not clumped up–it's kind of hard to get them totally spread out).
Bake in the oven for 25 minutes.
Remove from the oven and let them cool for 20 minutes. Store in an airtight container for up to two weeks.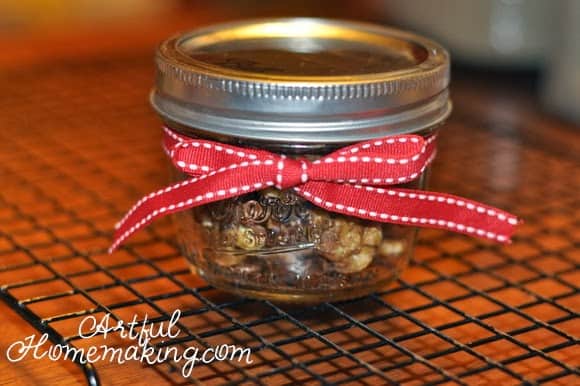 This recipe comes from one of my new favorite cookbooks, Fresh: Nourishing Salads for All Seasons, by Kimberly Harris. I've been wanting this book since its release, but the $18.99 price tag prohibited me from buying it. I felt I couldn't justify spending that much money on just an ebook! This book is the main reason why I bought the Ultimate Healthy Living bundle for myself, and I'm so glad I did!
I'm hoping to incorporate more salads into our diet, and this book has so many ideas for salads and things to go with the salads–eating salad will never be boring again! And it's very nicely done, too.
And now I come to another love of mine (totally unrelated to salads), and that is cookies! I mentioned here recently that we have a family tradition of making cut-out cookies whenever the seasons change. It's a tradition that's much anticipated by all of my children, even the older ones. It's fun to cut out flowers and bee skeps in the spring (yes, we do have a bee skep cookie cutter!); butterflies and trains and whatever we want in the summer; leaves, pumpkins, and apples in the fall; and bells, candy canes, trees, and gingerbread men in the winter.
There are some seriously yummy looking cookies in this book, and the photos are gorgeous. I love good photos in a book, and this one has some of the best I've seen! They make me want to start baking!