Healthy candied nuts are a delicious treat for the holidays or anytime! Sweetened with a natural sweetener like Rapadura with a hint of vanilla and cinnamon added for extra flavor. These are so good plain, or added to yogurt or salad.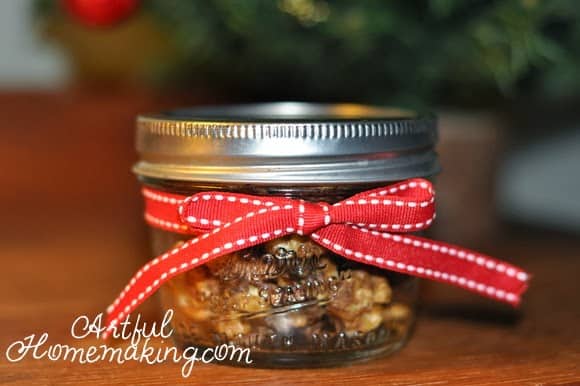 I love these things. Ad I mentioned above, they're good plain, and they also make a great addition to a fruit salad or even green salads (they're not overly sweet, they just have a hint of sweetness).
And it's another one of those things the kids can help with or even make themselves (with a bit of oven supervision).
And as you can see, they pack nicely into a jar for gift-giving, too.  Another
handmade gift
idea!
More Healthy Christmas Recipes
Affiliate links included below, which means I may make a small commission at no extra cost to you. Read my disclosure here.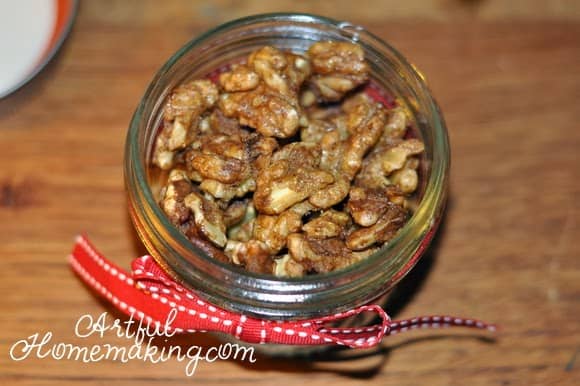 Vanilla Cinnamon Candied Nuts
Ingredients:
1 egg white
2 teaspoons of cinnamon (I prefer the Ceylon form)
1 teaspoon of vanilla extract (learn how to make your own here!)
1 teaspoon of salt
1/3 cup rapadura, sucanat or another sweetener (they work equally well)
2 1/2 cups of walnuts (you can also use other nuts, such as pecans or cashews, etc.)
Directions:
Preheat the oven to 300 degrees.  Lightly grease a cookie sheet with coconut oil or butter, or cover with parchment paper (I used parchment paper, which I found at our discount grocery store).
In a mixing bowl, gently beat the egg white with a whisk until it's just a little bit foamy.
Add the cinnamon, vanilla, salt, and sugar.
Fold in the walnuts, coating them well.
Remove the walnuts with a slotted spoon, and allow the extra coating to drip out. Place the nuts on the prepared cookie sheet, and spread them out so they aren't touching (at least not clumped up–it's kind of hard to get them totally spread out).
Bake in the oven for 25 minutes.
Remove from the oven and let them cool for 20 minutes.  Store in an airtight container for up to two weeks.