These useful homemaking skills were common knowledge in our grandmothers' day.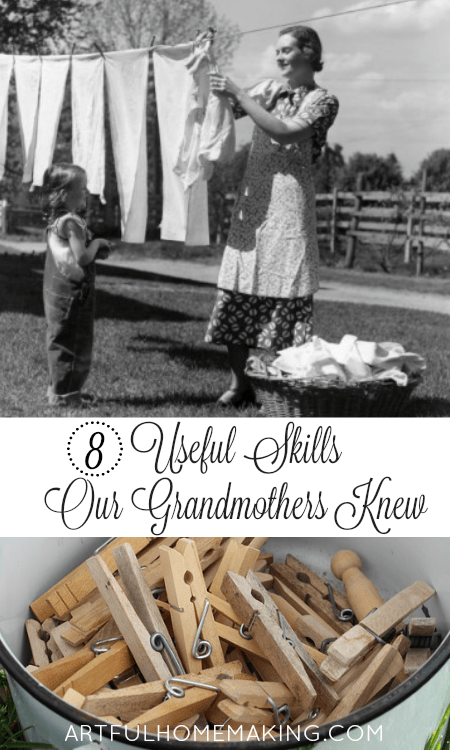 Our grandmothers had many useful homemaking skills that are quickly being forgotten today.
I remember spending time with my grandmother and just being amazed that she knew so much! Her life was a handmade life, making her own clothing, making food from scratch, canning, quilting, and gardening.
Useful Homemaking Skills Our Grandmothers Knew
Here are 8 of those useful homemaking skills that our grandmothers knew, but that aren't as common in our day.
Affiliate links included below. Read my disclosure here.
1. Cooking From Scratch
Our grandmothers could cook from scratch, often not even needing a recipe. My grandmothers and my husband's grandmas all had delicious recipes stored in their memory.
Related Post: 20 Frugal Depression Era Recipes
2. Sewing
Most women in the past knew some basic sewing, even if they didn't sew all of their family's clothing. Learning to sew was one of the main skills I wanted to learn after I got married (I wish I would have learned before I got married, but I was busy working full-time and going to school part-time, so I never got around to it.).
3. Mending
Today, when an item of clothing gets torn or a button is missing, many people just throw the item away rather than taking the time to fix it. This is in stark contrast to our grandmothers, who even darned socks!
I have no desire to darn socks, but it does make sense to learn basic mending skills, like how to sew on a button or how to patch an item of clothing when possible.
4. Quilting
I know not every woman in the past learned to quilt, but our grandmothers did. We're so thankful for the quilts that have been handed down from my maternal grandmother and my husband's grandmother. Quilts are such useful works of art.
5. Gardening
It used to be the norm to have at least a small garden, and most people had larger ones. Many families also relied on foraging for wild edibles, knowing which plants and berries (and mushrooms) were safe to eat and which ones weren't. Many of our grandmothers also knew how to save seeds for use the following year.
6. Canning and Preserving Food
Most women in the past learned how to can and preserve food. Canning and drying food was a way to preserve the summer's harvest of vegetables from the garden. My grandmother almost always had home-canned jams and jellies on-hand. She would use whatever fruit was growing on her property to make her jelly.
7. Bread Making
Making your own bread used to be a more common skill than it is today. Many women didn't even need yeast (and often couldn't obtain any), so they made sourdough bread with sourdough starter.
Now it's so easy just to purchase all of our baked goods at the store, but baking your own used to be a necessity.
8. Natural Remedies
I'm so thankful for the many benefits of modern medicine when we need it. I wouldn't want to go back to the past, with outdated procedures and dangerous practices.
However, I still think it's a good idea to know some basic natural remedies and to keep a well-stocked natural medicine cabinet. Many of our grandmothers passed down time-honored remedies like eating chicken soup made from bone broth to strengthen the body and restore health.
Reviving Homemaking Skills
Many people still possess these useful skills today. And there are so many other useful things that could be learned.
This is just a basic list of the most basic skills. You could also include animal husbandry, keeping chickens, making soap, making candles, knitting and crocheting, and so much more.
But it's a fact that life is so incredibly busy these days that many people just don't have time to learn or practice these things (and not everyone is interested in learning them, and that's okay!).
If you have a desire to learn any of the above skills that you haven't yet had a chance to develop, it's never too late to learn something new! (Teach yourself, ask a friend, or take a class.) Which one would you start with?
Probably my favorite homemaking skills are baking bread, sewing, and quilting (even though I've done very little quilting so far). And although it's not on the above list, making soap would also be another favorite.
Did your grandmother have any of the above skills? What are your favorite homemaking skills?
Free Depression Era Cookbook – Click here to download our FREE cookbook –> 25 Depression Era Recipes
Don't miss these related posts:
20 Frugal Recipes from The Great Depression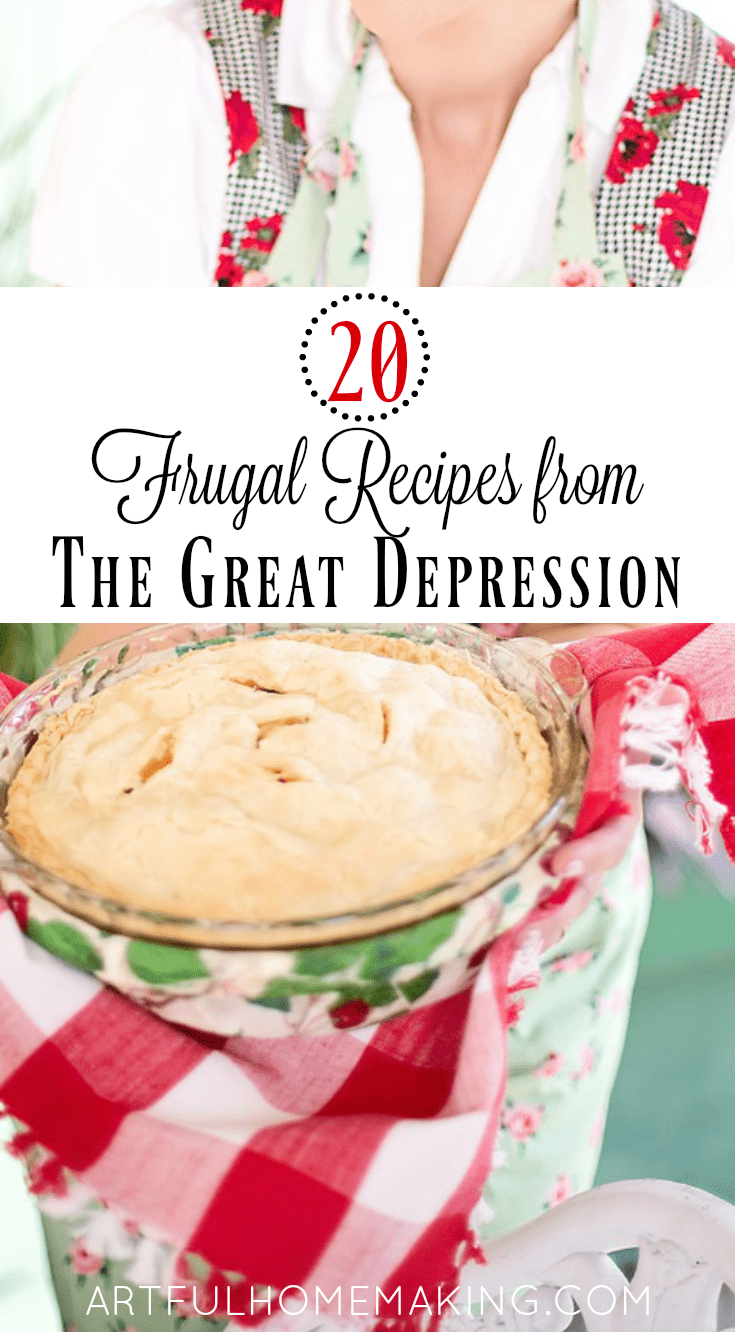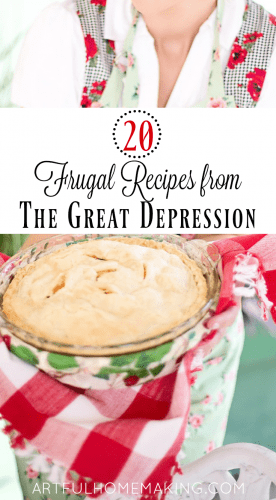 10 Lessons from The Great Depression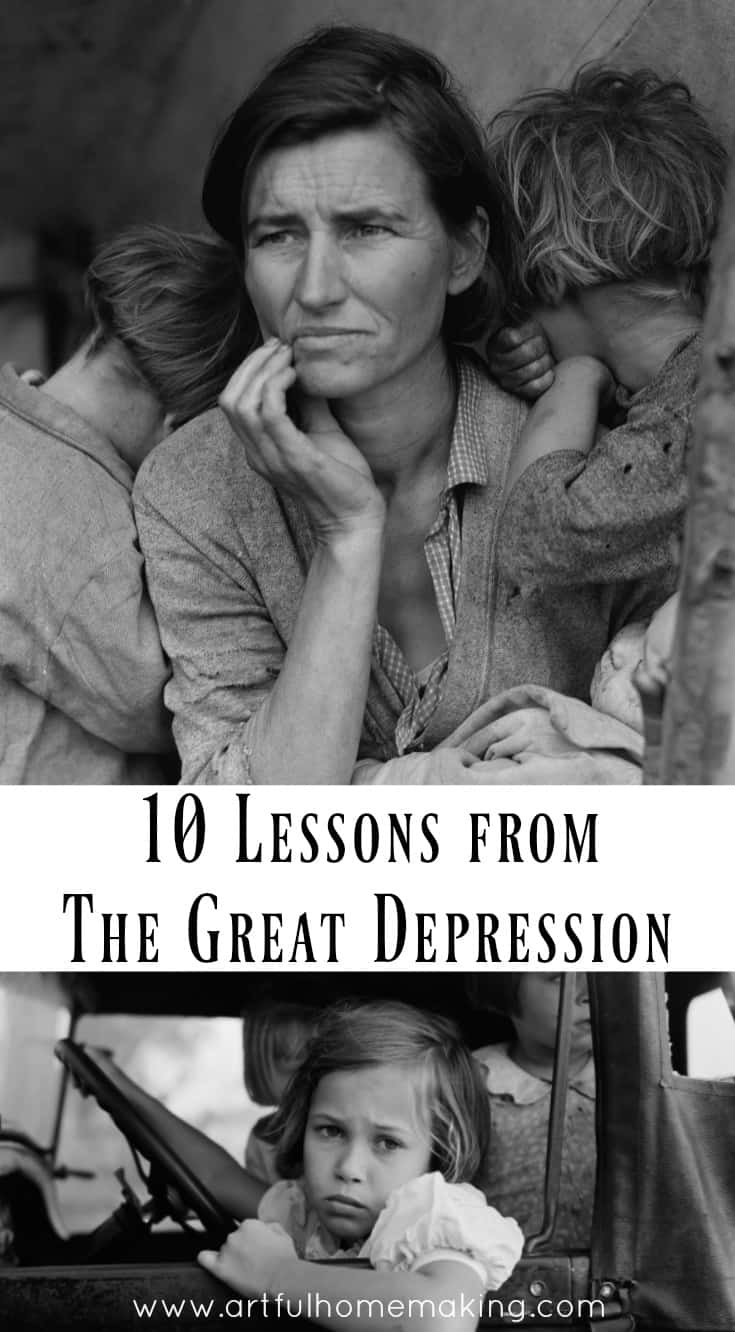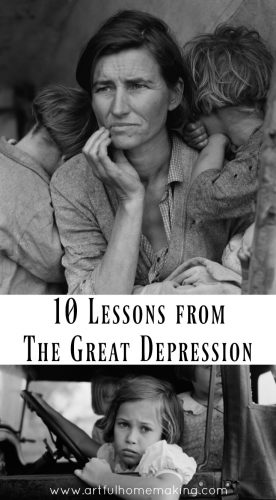 This post contains affiliate links. Read my disclosure here.