12 last-minute Advent ideas to provide some helpful and simple ideas for this Advent season!

Thanksgiving was lovely (and busy), but now the laundry is piled up and the rest of the house is also needing attention. We got the Thanksgiving decorations taken down and the Christmas ones put up, but I still haven't had time to work on Christmas plans.
This year I found myself waiting until the last minute to plan for advent. So, I went in search of some really simple plans that wouldn't require much preparation or a trip to the craft store.
12 Last-Minute Advent Ideas
Here are 12 Last-Minute Advent Ideas in case you're needing these too! 🙂 Most of these are so simple you could probably get them done today!
1. Make a Christmas Book Advent Calendar
Several years ago I made a Christmas book advent calendar. This is a super-simple project. Just wrap 24 Christmas books and take turns unwrapping and reading one a day. That's it!
You can also intersperse activities in with the books. When we did this years ago, we only had 12 Christmas books (we've since acquired more!), so we also included envelopes with an activity to do on alternating days.
2. Advent Calendar Paper Chain
This is another great last-minute idea. Print the verses, cut them out, make a chain, and then read one of the verses each night leading up to Christmas.
Advent Calendar Paper Chain from Activities for Kids
3. Random Acts of Kindness Advent Calendar
Put the focus on blessing others this Christmas season, and perform one act of kindness each day during the advent season!
Random Acts of Kindness Advent Activity by Raising Lifelong Learners
4. Advent Blessings Jar
Here's another idea for encouraging gratitude and also blessing someone else.
Advent Blessings Jar by Thirty Handmade Days
5. Easy Last Minute Advent Calendar
This calendar would be easy to make with supplies you already have on-hand!
Easy Last Minute Advent Calendar by Sugar Aunts
6. DIY Advent Calendar for Broke People
This is another simple advent calendar that uses clothespins you already have on-hand!
DIY Advent Calendar for Broke People by Intentional by Grace
7. Make a Gift Tag Advent Calendar
Use gift tags, ribbon, and clothespins to make this simple advent calendar! Just write the daily activity on the back side of the tag.
25 Days of Christmas by Pink Pistachio
8. Make a Simple Christmas "Bucket List"
Make a list of activities you'd like to do this December, and then check them off as you do them. Here's a printable: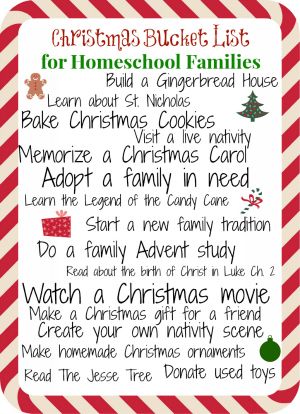 Christmas Bucket List for Homeschool Families by Life of a Homeschool Mom
9. Names of Jesus Advent Chain
This is a beautiful and meaningful way to celebrate the Christmas season, with the focus on Jesus.
Names of Jesus Advent Chain by Spell Outloud
10. Christmas Countdown Conversation Cards
Make conversation at the dinner table meaningful this Christmas with this free printable:
Christmas Countdown Conversation Cards by Tidbits
11. 24 Days of Scriptures
Read a scripture every night, starting on December 1st.

25 Christmas Traditions by The 36th Avenue
12. Truth in the Tinsel
We used Truth in the Tinsel last year (you can see some of what we did here and here). This book can be as involved or as simple as you want it to be. Last year we made the ornaments, but you can also get the printable ornaments, which makes this a great last-minute advent idea!
Bonus Idea
If you're still needing a simple plan for Advent, try this Stress-Free Advent Calendar printable pack, which you can get for free here!
This free printable pack gives you a couple of options for Advent calendars and also an Advent Bible reading plan.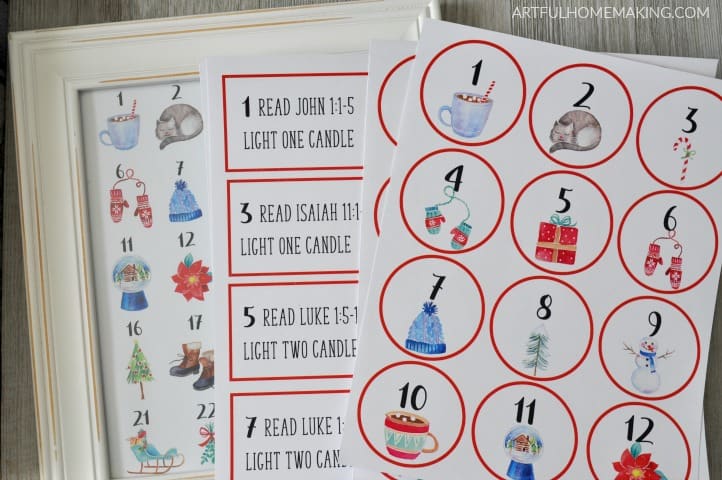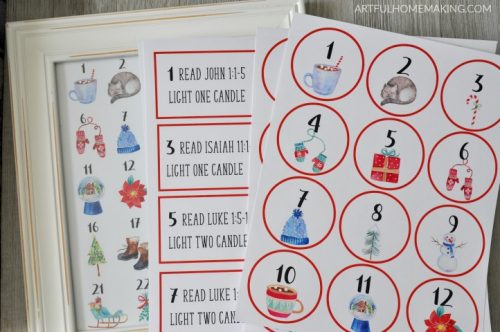 Our Christmas Traditions
In addition to coming up with a special advent plan every year, we always do these Christmas traditions:
Baking Christmas Cookies
We use this recipe for Christmas cookies.
Making Christmas Pretzel Treats
These Christmas Pretzel Hugs are so yummy!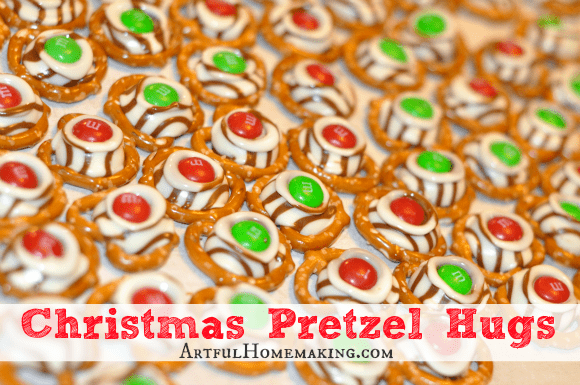 And we always have to make Chocolate-Dipped Pretzels!
Gingerbread Houses
We've been making these simple, no-bake gingerbread houses ever since my older children were little. Even my teenagers still look forward to it every year!

Handmade Cinnamon Ornaments
I love these making these simple Easy Handmade Cinnamon Ornaments!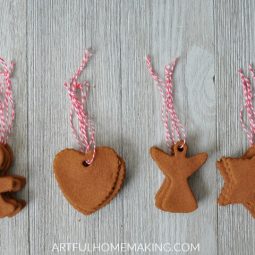 How are you celebrating advent this year? I'd love to hear about your plans!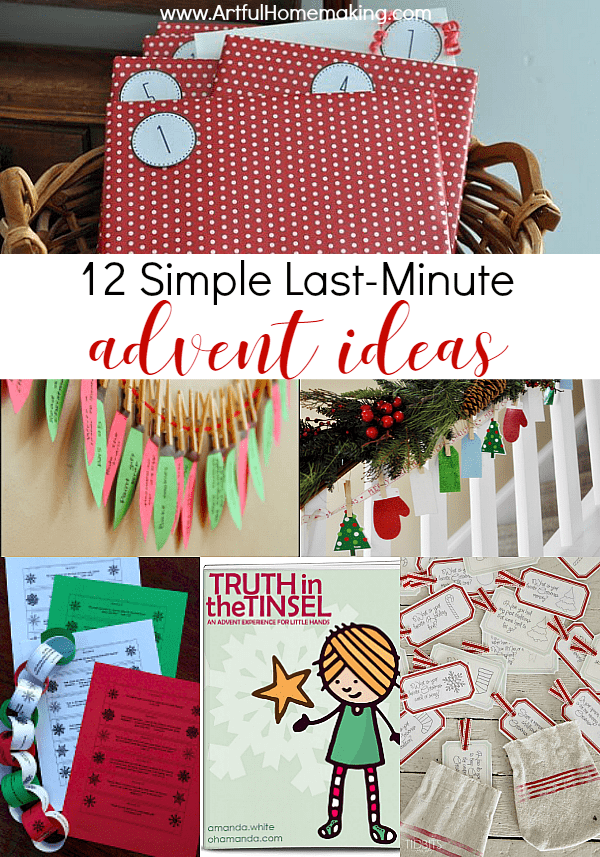 This post contains an affiliate link. Read my full disclosure here. Sharing here.