Need help with chores? Wondering which chores your kids might be able to handle, and what to assign at certain ages? Here's a list of age-appropriate chores for kids.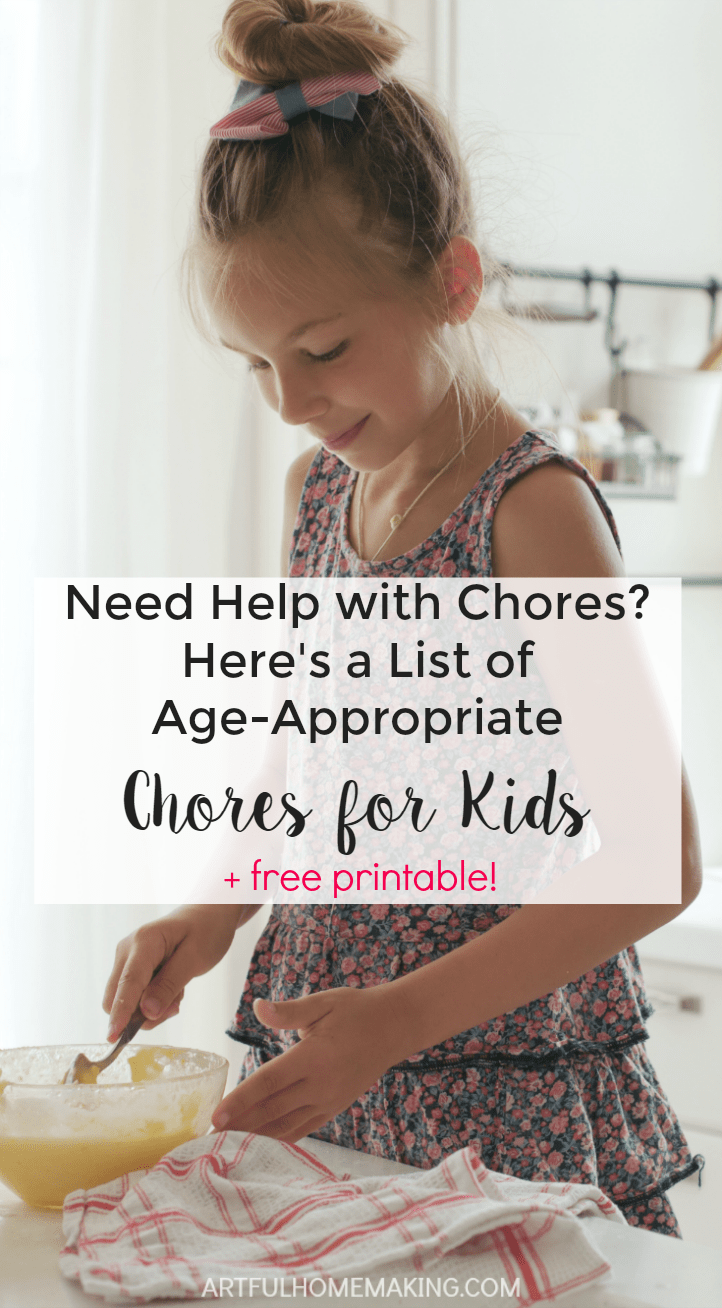 After sharing  how we do chores at our house, I've received several requests to share some more detailed chore information.
I don't have all the answers, but I'm happy to share what's worked for us over the years!
I'll share some general recommendations, and then I'll give you a peek into my kids' chores.
Age-Appropriate Chores
All kids are different, so these are just suggestions. Some children can handle more responsibility at younger ages, and others need a bit longer to mature.
Do what works for your own children, and always keep safety in mind when assigning chores. It also helps to use non-toxic cleaners (you can even make your own cleaners with basic ingredients).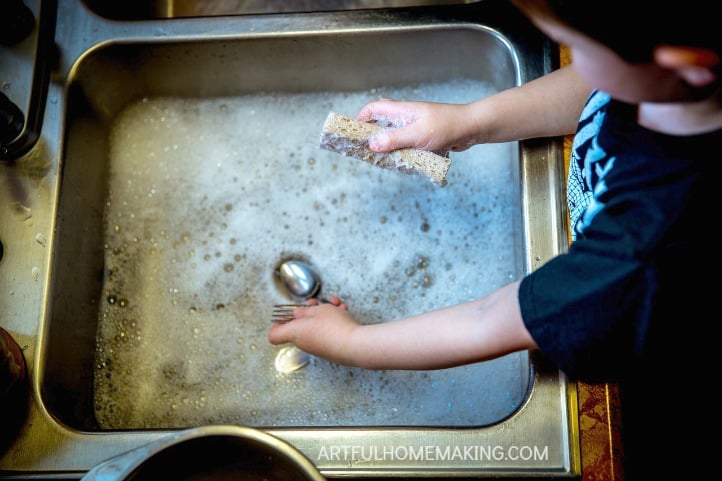 Ages 2-3
pick up toys and put away
put dirty clothes in hamper
dust
fold washcloths
empty small trashcans
help pick up room
spray sink with water and wipe down
Ages 4-5
make bed
pick up bedroom
put away laundry
set the table
clear the table
fold washcloths and hand towels
wipe down kitchen table
dust
empty small trash cans
use a small vacuum and child-sized broom
wipe down sink
change out hand towel
Ages 6-7
make bed
pick up bedroom
set the table
clear and wipe the table
rinse dishes and help load the dishwasher
empty small trash cans
fold towels
dust
wipe down sinks and toilets
clean doorknobs
sweep with child-sized broom
wipe light switches
wipe down walls
Ages 8-9
make bed
clean room
put away laundry
empty trash
sweep and mop
wash dishes/load dishwasher
dust
clean windows and glass with non-toxic cleaner
help with meal prep
Ages 10-12
make bed
keep room clean
wash, fold, and put away laundry
sweep and mop floors
vacuum
organize belongings
mow the lawn
prepare simple snacks and meals
clean bathroom
bring in mail
take out trash
Ages 13+
keep room and belongings clean and organized
clean any room completely
make a complete meal
bake bread, cookies, and cakes
clean out and wash vehicle
iron clothes
lawn care
and so much more!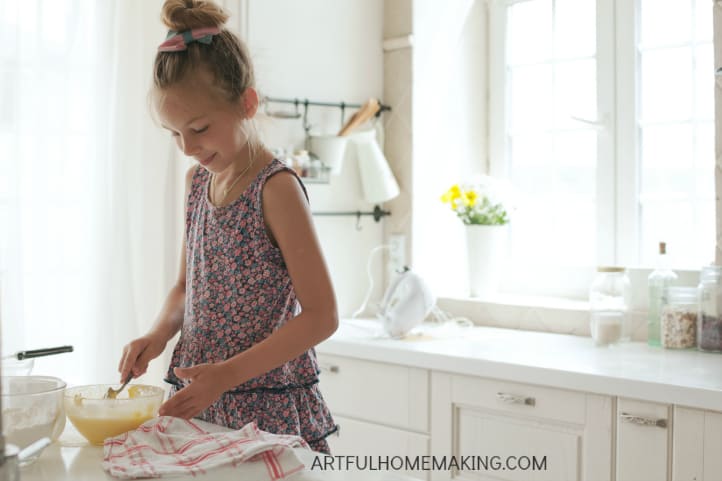 My Children's Weekly Chores
In our home, our kids keep the same chores for long periods of time.
This makes a lot of sense because then they become proficient at their chores, and after awhile they don't need to ask questions or waste time trying to work out the best way to get it done.
By keeping the same chores, they're able to develop a streamlined way of performing each task. This gets them done faster!
Occasionally we do rotate things, but not very often. One year, my two older daughters wanted to trade jobs, so we switched things up and everyone was happy. 🙂
As kids get older, you'll naturally want to train them in new chores and help them learn to handle more responsibility. So, things do need to be changed up every once in awhile so everyone gets a chance to learn how to run the house.
If you decide to have your children keep the same chores for longer periods, just be sensitive to what works for your own children and in your own home.
Here are our current Friday Cleaning Day chores (listed by age):
7-year-old
put laundry away
put away toys in bedroom
dust bedroom
take dirty laundry to laundry room
empty all small trash cans in basement (we have a finished basement where we have our school room, play area, and office)
help clean up basement
11-year-old
clean girls' bedroom
vacuum girls' bedroom
vacuum hallway
dust living room
clear off and straighten school table
help pick up basement
vacuum basement
13-year-old
clean boys' bedroom
vacuum boys' bedroom
put laundry away
take bathroom laundry to laundry room
pick up living room
vacuum living room
help pick up basement
take out trash
15-year-old
clean main bathroom (clean mirror, counters, disinfect and clean out sink, disinfect doorknobs, clean toilet top to bottom, clean bathtub, sweep and mop, and put out a clean hand towel)
clean glass on kitchen door (inside and out)
clean glass on office door
vacuum stairs
17-year-old
deep clean kitchen (clean counters and wipe, wipe down cabinets and appliances, wipe down island, clean out microwave, dust wood furniture, sweep, mop, clean out one drawer, disinfect sink and dish drainer)
sweep and mop front entryway
fold laundry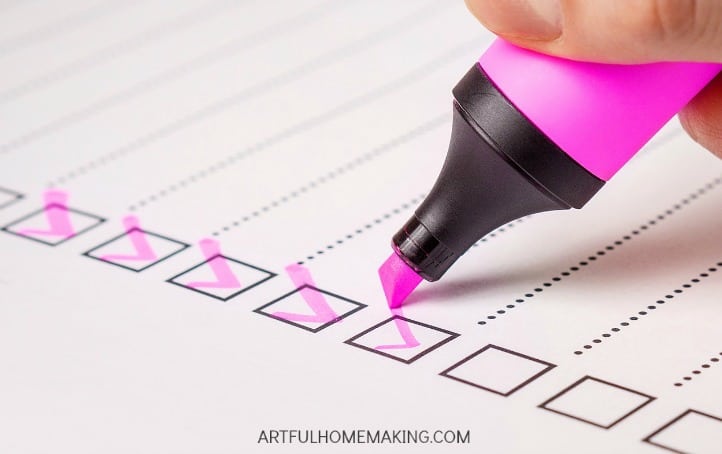 Mom's Responsibilities
While my kids are doing all of that cleaning, what am I doing? 🙂 Here's my usual weekly cleaning list (sometimes I add more to this list if I have bigger projects that need to be tackled):
change sheets
clean master bathroom
clean/organize and vacuum master bedroom
water plants
one or two chores from my monthly cleaning list
How Long it Takes
I  spend more time cleaning than the kids. They've got their jobs down, and they work fast to get them all done in record time! After getting my cleaning done, as I mentioned above, I'll usually work on some organizing projects. I have a hard time stopping once I start organizing!
It usually takes me one to two hours to get my cleaning done, depending on how many extra chores I decide to add.
Now that my children are older, we still get in some schoolwork on Fridays, despite the fact that cleaning is our focus for the earlier part of the day. Everyone except my 7-year-old works pretty much totally independently, so they do school work after finishing their cleaning.
Where Laundry Fits In
Since we have seven people in our home, laundry is pretty much a constant thing. I wash towels and sheets on Monday usually, and then we work on the rest of it throughout the week.
Daily Chores
My kids' daily chores consist of doing the dishes, taking out trash, sweeping, picking up, taking dirty laundry to the laundry room, folding laundry, etc.
All the kids take turns with various cooking tasks. The older girls do a lot of it, but my 11-year-old frequently makes breakfast, and my 13-year-old son doesn't get much of a chance in the kitchen because the girls are often kicking him out! I'm working on getting him in the kitchen more since he really enjoys it (and I think everyone should learn basic cooking skills!).
Our four oldest children take turns doing the dishes at different times of the day. Our current schedule is that the 11-year-old does breakfast dishes, the 13-year-old does lunch, and the two older girls help each other with dinner dishes (since that's the biggest meal of the day we usually have more dishes then).
Get the Free Printable
If you'd like a printable with these chore suggestions, I made a simple one for you to download below or you can also find it here.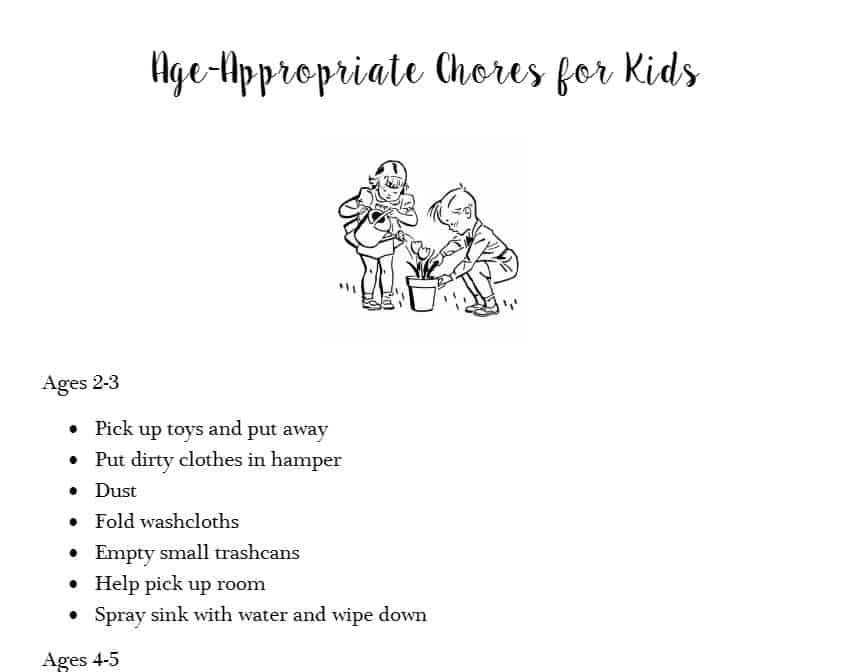 I hope this answers some of the questions that have been asked about how we do chores!
You may also enjoy these posts:
Disclosure: This post contains affiliate links. Read my full disclosure here. Sharing here.