Decorate for fall on a budget with these simple fall decor ideas!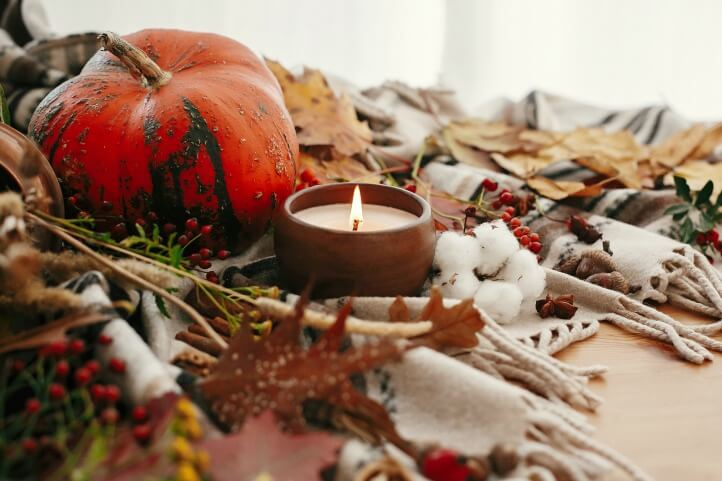 I love decorating for fall. Even before the leaves begin to change, I start thinking about fall home decor.
But even though I love decorating (especially with farmhouse style decor), I can't afford to spend a lot of money.
Decorate for Fall on a Budget
Our family has been living on a tight budget for years. I've spent a lot of years learning how to look at things creatively.
And I actually really enjoy the challenge of decorating our home on a budget!
Here are some of my best tips for how to decorate for fall on a budget.
Affiliate links included below. Read my full disclosure here.
Bring Nature Indoors
Rather than going out and buying artificial plants and flowers for your decor, consider using natural elements.
Natural items like tree branches, flowers from your garden, pine cones, leaves, and acorns all make wonderful fall decor.
Try cutting a branch off of a bush or tree, and putting it in a vase or ironstone pitcher. I have and love this farmhouse style pitcher.
One of my favorite fall memories is of gathering acorns and pine cones with my children when they were young. We would bring our "treasures" home, clean and dry them, and use them as decorations.
If you plan in advance, you could also plant your own pumpkins next year. The years we've grown our own pumpkins have been my favorite!
It's also fairly inexpensive to grab a few pumpkins from a local greenhouse or even Walmart.
I like to use pie pumpkins for decor because then they can be made into pumpkin puree later. More bang for your buck!
Related: How to Cook a Pumpkin
Change Out Your Pillow Covers
Pillow covers can be relatively inexpensive (here are some super cute ones). Rather than buying all new pillows, you can just change the covers with the seasons.
If you know how to sew, you can also make your own fall pillow covers, which might be even cheaper (if you can find affordable fabric).
Make Your Own Wreath
I have an old grapevine wreath that I've been decorating and re-decorating for years. Whenever I need a "new" wreath, it's fairly simple to grab my glue gun and redecorate it.
Related: A New Wreath and Fall Decorating
I often see these types of wreaths at thrift shops for a few dollars. If they're in good shape, they would be perfect for this project! (You can also find them on Amazon here.)
There have been years where I didn't even use the glue gun, but I simply used florist's wire to tie on some natural elements from the yard.
One year my children and I gathered bunches of bittersweet that grew at the end of our lane, and we tucked those into the wreath.
Then we simply made a fall-colored ribbon bow to hang at the bottom. I loved how it turned out!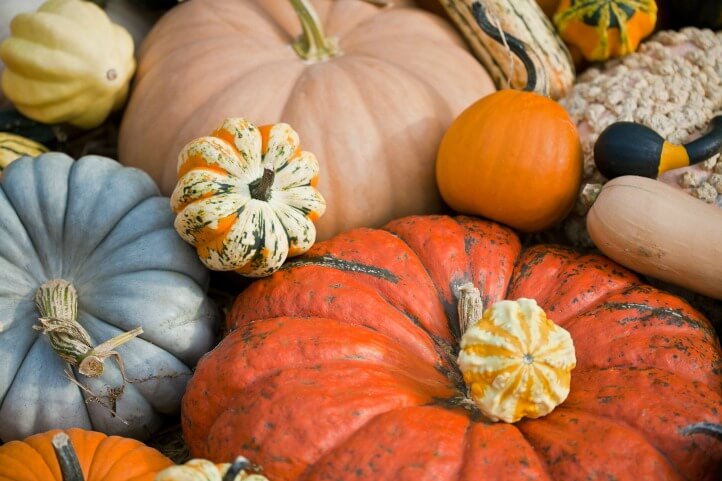 Decorate with Food
One of the simplest home decor ideas I love to use is to just set out a bowl of in-season produce.
So, in September, I set out bowls of apples. In October, I love to use pumpkins, gourds, and squashes.
This is the best frugal decor because you can eat it after you're done displaying it!
Artfully Display Throw Blankets
Cozy throw blankets and quilts make great budget-friendly fall decor. Again, these are also great because they're useful as well as decorative. This one is cute for fall!
Display Thrifted Books
If you already have some old books on-hand, these can make great fall decor if the covers are fall colors.
We have some antique books found inexpensively at flea markets, and they do a great job of doubling as decor. I love using the ones with gray, green, orange, or brown covers.
Light Candles
One of my favorite ways to make our home seem more cozy is to light candles. Especially on fall and winter evenings.
Buy Artificial Plants and Pumpkins
Even though I love using natural elements for our home decor, in the long-run faux decor can actually be cheaper.
You can make a trip to the Dollar Store (or a thrift shop) and pick up some fall decor items. Then you can reuse them again and again, year after year!
More Ideas for How to Decorate for Fall on a Budget
I hope you enjoyed reading my ideas for how to decorate for fall on a budget! Let me know in the comments if you have more ideas!
For even more ideas, be sure to check out this post full of Dollar Store Fall Decor Ideas!
Related Posts
Pin This Post for Later
This post contains affiliate links. Read my full disclosure policy here. Sharing this post here.