Welcome to week 1 of The Mom Makeover Challenge!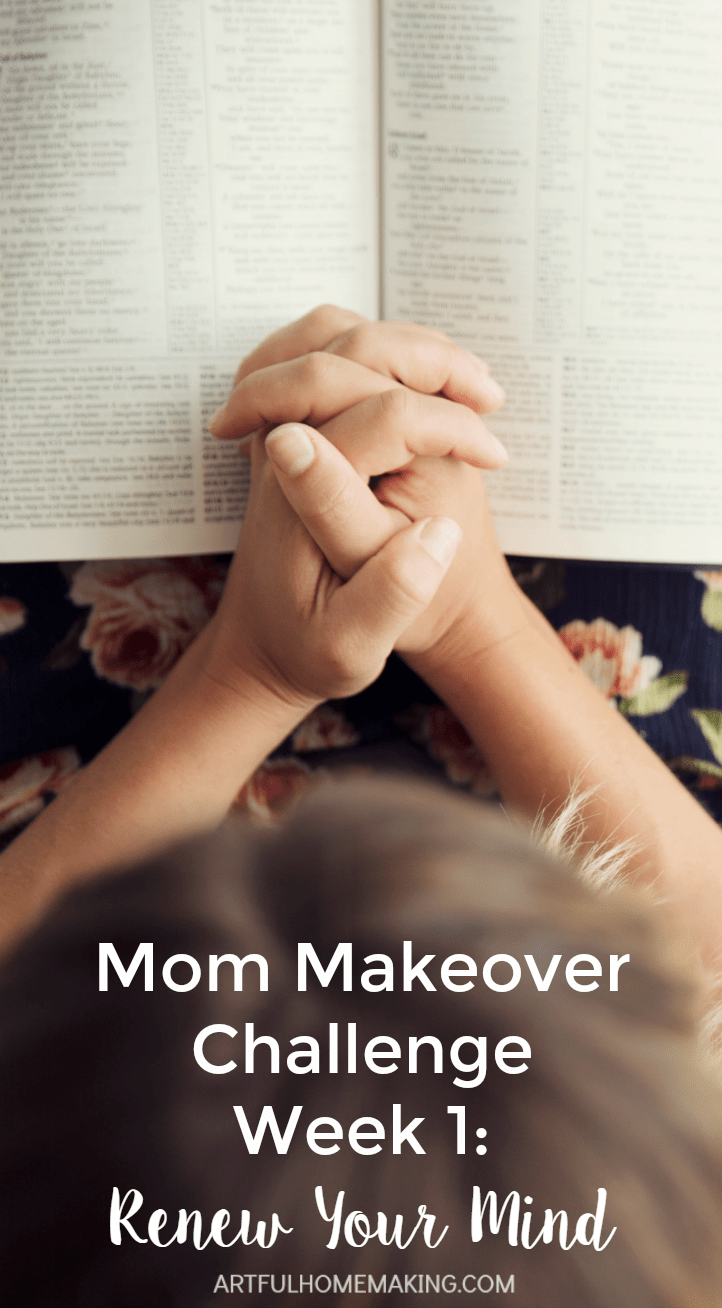 Recently, we finished up The Mom Makeover Series, and this week we're beginning The Mom Makeover Challenge. Just reading about something once doesn't really help with implementation, so I thought a challenge was in order. 🙂
I'm hoping this will be a blessing for you, as well as provide me with some accountability as I walk through these steps again myself. Let's do this together!
My plan is to work on one of the Mom Makeover steps each week. I'll be documenting my progress on Instagram. I'm also planning to do a follow-up post here on the blog at the end of each week.
Mom Makeover Challenge Week 1
As we discussed on the first day of The Mom Makeover Series, what we think about and what we believe about ourselves has a profound impact on who we are as women.
If we want to be life-giving women who are encouraging and fun to be around, we must work on our thought life. I'm going to be honest here and tell you that this doesn't come naturally to me at all. It's something I'm constantly working on.
It occurred to me one day that if I want to speak blessings into my children's lives, I can't be thinking dark thoughts about myself. It just doesn't work that way.
Renewing our minds with Scripture is one of the best ways to get back to thinking truth.
If then you have been raised with Christ, seek the things that are above, where Christ is, seated at the right hand of God. Set your minds on things that are above, not on things that are on earth.  ~Colossians 3:1-2
If we "set our minds on things that are above," then it's going to be a lot harder to spend time focusing on negative thoughts.
Challenge for This Week
The action step for this week is to identify negative thought patterns and the lies you've been listening to.
Find a passage of Scripture or a single verse that will counteract each lie with truth.
Write your verses on 3 x 5 cards or print them out. Then keep them where you can see them regularly.
If possible, memorize these verses so that whenever you're tempted to fall back into that negative way of thinking, you can get back on track and think truth.
Here are some verses to get you started:
Psalm 19:14
Psalm 100
Proverbs 4:23
Isaiah 26:3
Isaiah 55:7
Habakkuk 3:17-18
Matthew 22:37
Luke 6:45
Romans 8:28
Romans 12:2
2 Corinthians 10:5
Ephesians 5:20
Philippians 4:8
Philippians 4:13
1 Thessalonians 5:18
2 Timothy 1:7
Hebrews 4:12
James 1:2-4
James 4:7
I know a week isn't really long enough for us to gain total victory in this area, but it's a good start! We'll get started this week and continue on with this mind-renewal project for the full 6 weeks of the challenge. My hope is that we can make some good progress in that length of time.
If you're on Instagram, I hope you'll join me over there for this challenge! I'm going to be using the hashtag #mommakeoverchallenge, and I'd love to see how things are coming for you!
---
Other Posts in The Mom Makeover Challenge series:
Sharing here.