Do you wish you had an organized closet? Are you tired of standing in front of a closet full of clothes and still being unable to find anything to wear?
I have a dream. It's a dream I've had for years.
In that dream, I have a minimalist closet containing 5-6 cute dresses (that actually look good on me).
Every morning, I get up and reach into the closet, and take out a dress (a whole outfit!) and put it on.
Wouldn't that be lovely? I thought this might be the year that my dream would be realized, but unfortunately, it's not. 🙂
So, I'm making do with the clothes that are already in my closet. I have a combination of skirts and shirts and pants.
Mom Makeover Wardrobe Challenge
Here's what my closet looked like at the beginning of this week (shared in the Week 4 Mom Makeover post):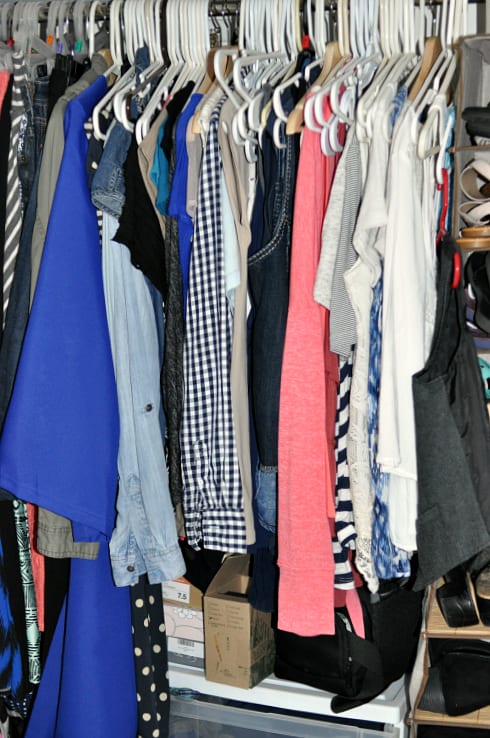 Pretty bad, right? It was a total mess, full of extra hangers, clothes I wasn't currently wearing, and items that didn't belong there (like the royal blue graduation gown on the left).
And here's what my closet looks like now, after going through it: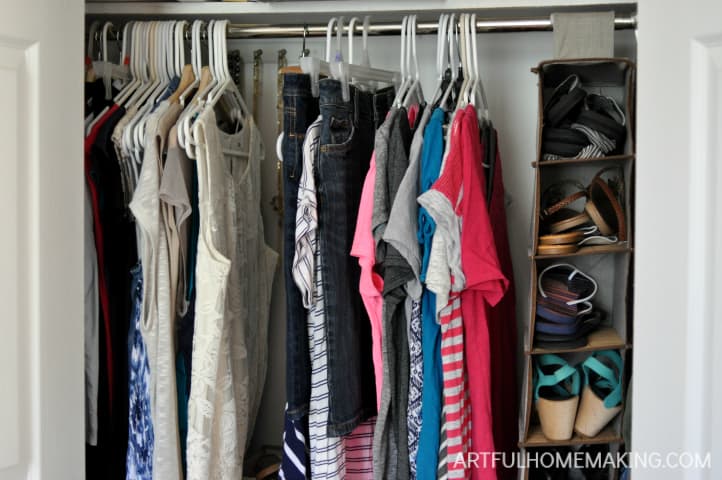 Much better! I removed all the extra hangers, removed the items that didn't belong, and I removed lots of things I never wear.
Organized Closet
Now my closet is so much better organized!
I even took the time to create outfits with what I have, and that's making getting dressed in the morning so much easier.
Here are some of my outfits. I've got them hanging together in the closet so they're easy to grab the night before.
I now have a system to my closet. On the right-hand side are my everyday/casual outfits.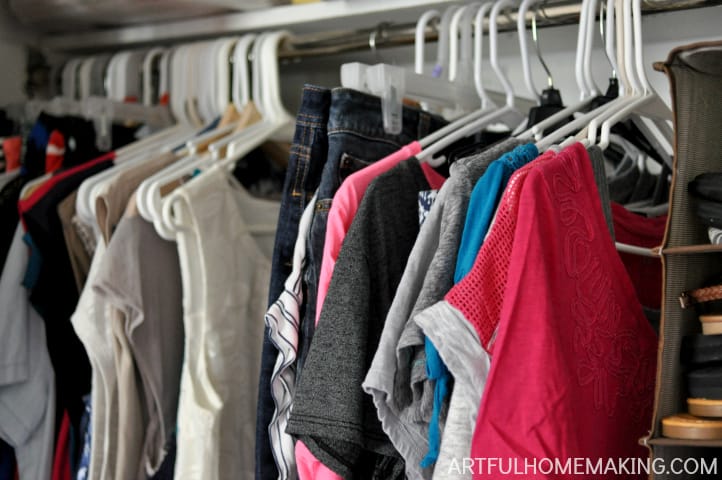 In the middle, I have my tunic-length tops that I wear with jeans. And on the left I have outfits for church and at the far left are a couple of special-occasion dresses.
My Favorite Sources for Tops
Someone asked on Instagram where I find cute tops, so I thought I would share here as well. Here are my favorite places to find them:
I do most of my shopping online, but when I go to stores, I go straight to the clearance rack. And I always look for classic things that I know won't go out of style in a year (because I usually keep my clothes much longer than that).
While I was going through my closet, I also went through my jewelry. I didn't have a lot, mostly just necklaces. Most of them are from several years ago. And I'm not exactly sure why I kept that weird shell one on the right (which was sent to me by mistake a few years ago!).
How Did You Do?
Did you get a chance to work on your closet this week? If so, how did it go? Do you now have an organized closet?
---
Other Posts in The Mom Makeover Challenge series:
Disclosure: This post includes affiliate links.  Read my full disclosure here. Sharing this post here.