When you're broke at Christmas, it can feel like a hard thing. Especially when you have kids. How are you going to give your kids a special Christmas when you don't have any money?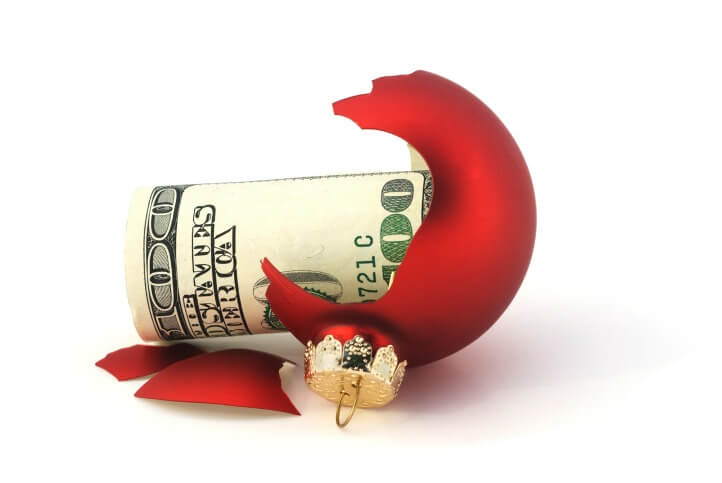 But even if you don't have kids, being broke at Christmas can still be discouraging. So often, when we want to show love to friends and family, we turn to gift-giving. But what do you do when you're short on funds?
I've thought long and hard on this (as we find ourselves in a lean season ourselves), and it's so true that the best things in life don't have a price tag. I know that may sound trite, but it's true!
Here are some ways to make Christmas special without spending any (or very little) money.
When You're Broke at Christmas
Not having money at Christmas may seem like a crisis.
There are often so many expectations surrounding the Christmas season, and most of those expectations require money. Expectations surrounding the decor, the gifts, the food, and the special experiences.
How will you tell the people you love that you can't opt in to all of it this year? How will you have a joyful holiday season and make happy memories when you're broke at Christmas?
A Mindset Change
When you realize that you can't afford to fulfill all these expectations (those of others, and also your own), it can feel like a huge letdown. For some it may even trigger depression.
But does it have to?
What if instead of looking at what we can't have and can't afford to do, we instead look at this as a blessing in disguise?
Think of how much less stress you'll have this Christmas season, without all the shopping and wrapping and rushing here and there.
We've found that by focusing on the good in every situation, we can potentially change our feelings about whatever is happening in our life.
A simpler, leaner Christmas can turn into something beautiful if we change our mindset and get creative with what we do have.
Be Open About Your Situation
Another thing that's helpful when you're broke at Christmas is to adopt an attitude of openness and honesty.
When you have young children, it's not usually necessary (or desirable) to discuss your financial situation with them. In most cases, they probably won't even notice. You can easily find free and fun things to do together that they'll love.
When you have older children, the situation becomes a bit more complex. Especially with teenagers and adult children, we've found that openness and honesty go a long way.
We had a family meeting with our kids, and told them where things stood with the finances. We expressed our sadness about it and asked them for ideas for creating happy memories even without money.
Everyone pitched in with ideas for how to have fun at Christmas without money. We were surprised by how many things you can do for free or very cheap!
Teenagers always seem to appreciate it when their parents are just honest about things rather than trying to hide things. They may be disappointed, but they can be understanding and okay with it if you give them a chance.
With extended family, things can be a bit tricky. There is always the potential for hurt feelings. Openness is still a good idea, if possible. Most people will be understanding if you're honest with them about your situation.
How to Afford Christmas on a Tight Budget
If you're looking at Christmas on a tight budget (and you're not completely broke), here are some creative ideas for gifts and festive activities that don't cost a fortune.
Before the Christmas season arrives, sit down with your budget and decide what you can spend. Be realistic and make sure you won't be overspending just to make others happy or to keep up appearances.
If you're on an extremely tight budget, you may find that you can't spend anything on decorations. Keep the old tree you've been using for years (ours is almost 10 years old), and use whatever decorations you already have.
If you usually purchase a real tree, that may be out of the budget this year. Try to find an artificial tree at a thrift store or ask around to see if anyone has one they're getting rid of.
You might also enjoy making your own decorations with things you already have (or with some inexpensive supplies from the dollar store). Cinnamon ornaments can be very affordable with a large container of cinnamon (out of date is fine here!) from the discount grocery store.
Consider making handmade gifts like sugar scrub or looking for something in good condition at the thrift store. This is easier when you have younger children, but my teenage son found a set of speakers in excellent condition for just $8 at the thrift store. So it might be worth checking!
The dollar store can also be a source for inexpensive gifts and stocking stuffers. For younger children you can find activity books and craft supplies. Gifts for older kids can include journals, pens, and hair accessories.
For Christmas entertainment, consider local performances and church activities. These are often free or at least cheaper than a professional performance.
For Those Who Are Broke at Christmas
For those who are truly broke at Christmas, here are some ideas that won't cost you a dime. These are completely free Christmas ideas!
Give the Gift of Yourself
When you don't have any money for Christmas, you can still make happy memories. Especially when you give the gift of yourself. Plan to spend lots of intentional, meaningful time together. Time spent together is what creates special memories!
Go caroling
Visit a nursing home and sing for the residents
Make inexpensive treats to take to the neighbors (if you already have the ingredients on hand)
Go to the library and check out a pile of Christmas books to read together
Make some cookies or a special treat like popcorn balls, cuddle up on the couch together, and have a cozy read aloud session with your library books
Make Christmas ornaments together with craft supplies you already have on-hand
Fun and Free Christmas Activities
Here are some ideas for fun, free things to do around the holidays.
This post contains affiliate links, which means I may make a small commission at no extra cost to you. Read my disclosure here.
Drive around and look at Christmas lights while playing Christmas music
Have a Christmas scavenger hunt and take pictures with your phone at each location
Have a Christmas movie night (or several) watching free movies checked out from the library or found on YouTube (be sure to pop some popcorn and make some homemade hot cocoa to enjoy during your movie night!). If you have Amazon Prime (we had a very kind family member gift us a membership years ago), you can also watch movies that are included with your Prime membership.
Bundle up and play in the snow together
Have a board game night, complete with snacks and hot cocoa or even just hot tea (here are some of our favorite board games)
Find free community events to attend
Go to a church candlelight service on Christmas Eve
What to Do About Gifts
If you truly can't afford to buy gifts this year, here are a few possibilities to consider.
Write a detailed letter to each of your loved ones telling them how much they mean to you and what you love about them
Give them something special that you already own that they would appreciate
Make a book of coupons to be redeemed for special acts of service (things like a back rub, a foot massage, "play a game with Mom night", or whatever would be meaningful to your loved ones)
Create something handmade with items you already have on-hand
Make a special meal or treat they would love (if you can afford it)
It's About More Than Money
I hope this post has given you some ideas for how to make happy memories when you're broke at Christmas.
Even though being broke or on a very tight budget is never "fun," sometimes those memories become the happiest because they're the simplest. Sometimes, we realize just how much we've been missing out on by all of our busyness and the rush to acquire more stuff.
Christmas is about so much more than money and gifts. And when you strip those things away, sometimes that's when we find out what really matters most.
Related Posts:
Pin This Post for Later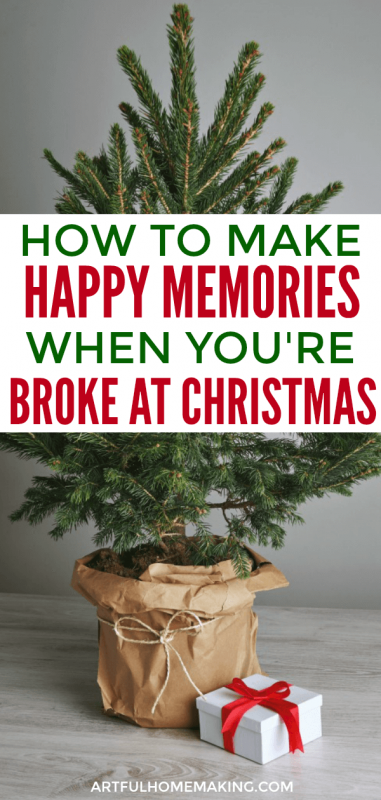 This post contains affiliate links, which means I make a small commission at no extra cost to you. Read my disclosure here. Sharing here.