Pantry staples to keep on hand so you'll always be able to make a quick meal! These are the items to stock your pantry with when you go shopping.
These frugal pantry staples will help you save money on your grocery bill and help you with your meal planning.
It's wonderful to have a pantry full of basic food items so you'll always have basic ingredients on hand to make a meal.
Pantry Staples
The following pantry staples are the food items I like to always have available in my pantry. With these simple supplies, I can make a variety of wholesome meals to feed my family.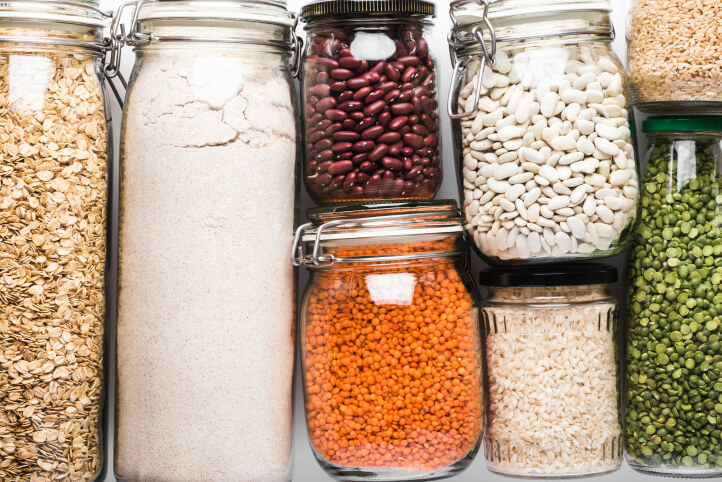 This post contains affiliate links, which means I may make a small commission at no extra cost to you. As an Amazon Associate I earn from qualifying purchases. Read my disclosure here.
Where I Shop for Pantry Staples
Before we get into the actual pantry staples list, I wanted to talk about where we shop to stock the pantry.
We source our groceries from a variety of places. For bulk food, we've been ordering from Azure Standard for over ten years. We get all our bulk grains, oats, maple syrup, and so much more from Azure.
If you're interested in learning more about Azure Standard, read my review and how-to post here!
We also shop at Amish and Mennonite stores locally to find discount groceries as well as local raw honey, molasses, and some bulk foods.
And some of the ingredients are purchased from Aldi, which helps save more money.
We've also been able to buy beef, venison, and free-range chickens from local farmers.
Now, on to the actual pantry list!
Flour
I buy both whole grains (to grind into flour with my grain mill), and unbleached flour that's already milled.
Oats
We buy old fashioned rolled oats from our food co-op. I love keeping this on-hand for homemade granola bars, granola, cookies, and baked oatmeal.
Rice
My husband and I usually eat riced cauliflower for fewer carbs, but my kids love rice, so I keep it in the pantry. It's a great way to stretch a meal when you're feeding growing children.
Dried Beans
Dried beans are one of the most frugal pantry staples ever! Great for frugal dishes like Caribbean Beans and Rice or chili.
Our favorite dried beans are black beans, kidney beans, and pinto beans, but we sometimes also have green and yellow split peas, lentils, and Great Northern or navy beans.
Popcorn
We buy popcorn kernels in bulk from our food co-op and make popcorn on the stove top in one of these or in an air popper.
Pasta
I primarily buy whole grain spaghetti noodles, but occasionally we also have other types of pasta in our pantry.
Baking Powder
So many quick breads call for baking powder that I buy this in bulk.
Baking Soda
We use this for recipes and also as a natural cleaner. I wouldn't be without baking soda!
RELATED: 15 Surprising Uses for Baking Soda
Yeast
I use this in my homemade bread recipe.
Spices
We keep a large variety of spices in our pantry, including onion and garlic powder, paprika, oregano, basil, cinnamon, parsley, and cumin (to name just a few).
As I mention later in the post, we often buy bulk spices from our food co-op, and I use those to make homemade pantry staples like homemade taco seasoning, homemade ranch dressing mix, and homemade pumpkin pie spice.
Honey
We buy raw local honey from the Amish (and Azure Standard, depending on price and availability).
Sugar
Both regular sugar, Sucanat, coconut sugar, and stevia are all on our list of pantry staples.
Salt
This Himalayan sea salt is my favorite.
Cocoa Powder
We use cocoa powder in so many recipes!
Vanilla
I've been making my own for years. It's easy! Here's how.
Coconut Oil
I use coconut oil for baking, frying, and just about everything! We keep both virgin and refined coconut oil on-hand.
Olive Oil
This is great for salad dressings. I prefer cold-pressed extra virgin olive oil due to its higher quality and health benefits.
Vinegar
Both white vinegar and apple cider vinegar are so useful. I use the white vinegar for natural cleaning products as well as recipes.
RELATED: Make Your Own Cleaning Products
Canned Tomatoes
So many recipes use canned tomato products that I try to always keep them on the shelves.
Canned Meat
I keep both canned chicken and tuna in our pantry. They're versatile and make for quick and easy pantry meals like tuna or chicken salad.
Canned Beans
In addition to dried beans, I also like to keep a variety of canned beans on hand. These include kidney beans, refried beans, and a variety of white beans for different recipes.
Onions
We use so many onions!
Garlic
I also love having fresh garlic available for recipes.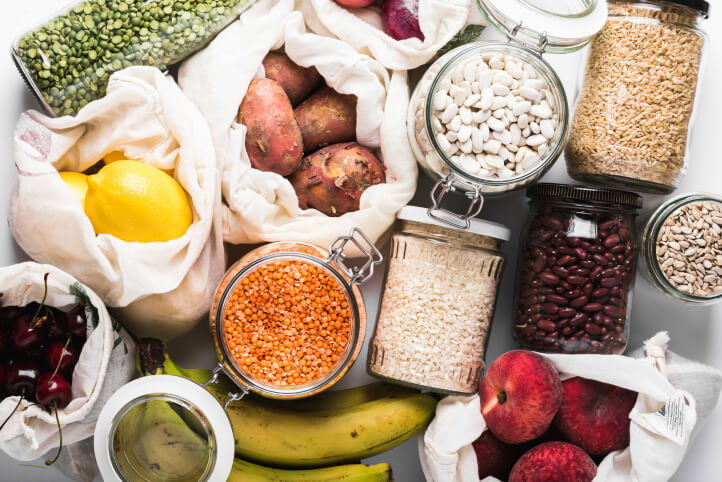 Potatoes
Potatoes are another one of the most frugal pantry staples.
Nuts and Seeds
I keep a variety of nuts and seeds available for snacks and also homemade granola.
Dried Fruit
We mostly use dried fruit in homemade granola and granola bars.
Chocolate Chips
We use these for homemade chocolate chip cookies, granola bars, chocolate chip bars, and other recipes.
Tortillas
You can do so many things with tortillas, including bean burritos and egg burritos.
Tortilla Chips
Our whole family loves chips and salsa! We also eat quite a bit of taco salad, so we pretty much always have tortilla chips on hand.
I've been on a grain-free diet and really love grain-free cassava tortilla chips.
Refrigerated Pantry Staples
In addition to all of the pantry staples above, here's what I like to always have on-hand in the refrigerator.
Azure Standard is a great source for many of these items.
Butter
Yogurt
Nut milk
Milk
Eggs
Cheese
Cream cheese
Sour cream
Lemon juice
Lettuce and other produce
Condiments, including mayonnaise, mustard, ketchup, etc.
Freezer Staples
Here's what I like to keep my freezer stocked with:
Frozen vegetables
Meat
Frozen fruit and berries
How to Make Your Own Pantry Staples
In addition to the things I keep stocked in our pantry from the grocery store and Azure, I also love making some of them myself.
Once you get a collection of basic spices stored up (we buy ours in bulk from Azure Standard), it's easy to mix up a spice blend.
Here are a few of my favorites: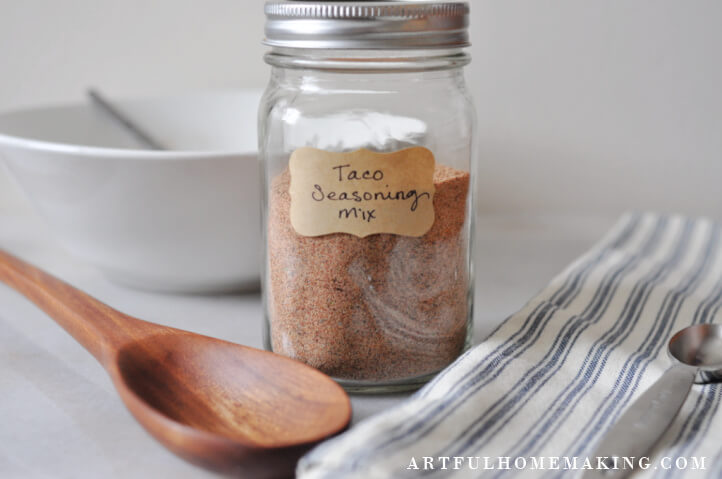 Related Posts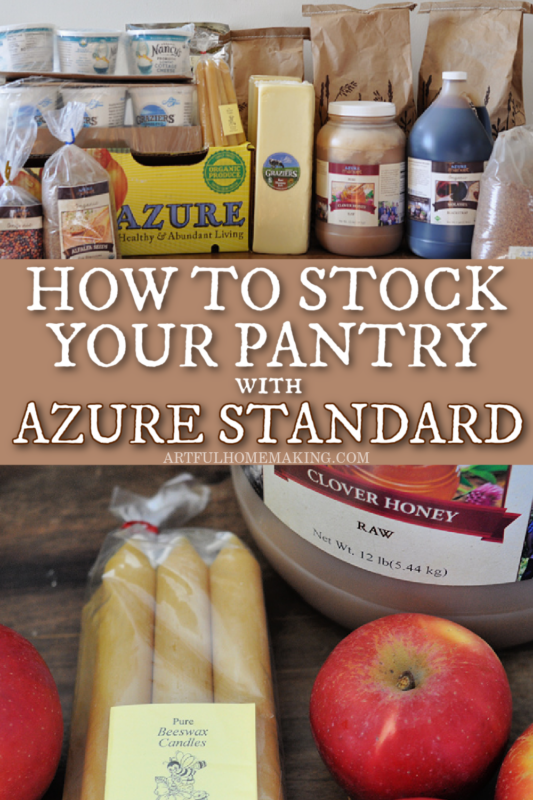 ---
You can make so many meals with this list of basic pantry staples!
Pin This Post for Later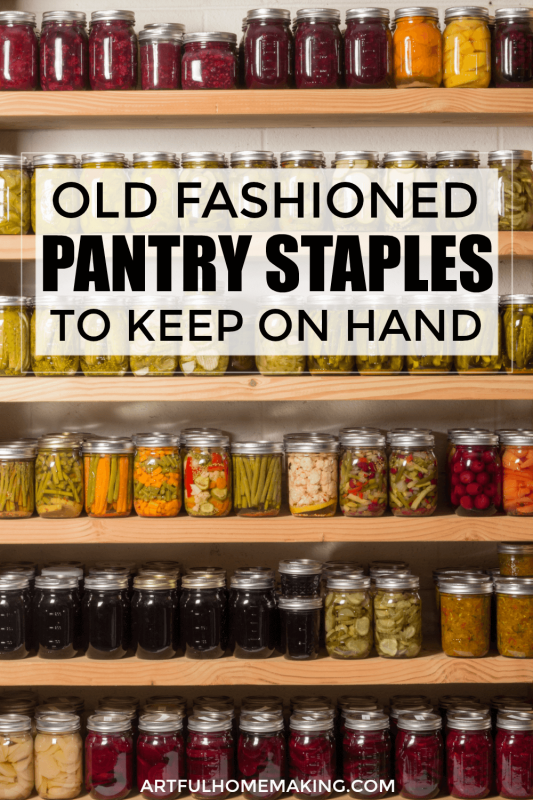 Disclosure: This post contains affiliate links. Read my full disclosure here. Sharing here.